Go-ahead given for Hartlepool school revamp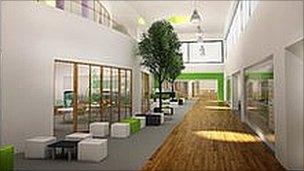 Work has begun on a £14m revamp for a Hartlepool school which it was thought might not survive spending cuts.
The project will see 25% of the existing Dyke House Sports and Technology College site demolished.
It was thought the scheme may have to be abandoned when the coalition government scrapped the Building Schools for the Future programme.
But Hartlepool Council was told the scheme could go-ahead and groundbreaking took place on Tuesday.
The completed school will have new science suites, dining hall, sensory gardens as well as a range of outdoor sporting facilities.
The school' s existing 1,200 pupils and staff are being relocated to the former Brierton School buildings in nearby Catcote Road.
Cath Hill, Hartlepool Council's cabinet member for Children's Services, said: "The College will be totally transformed, creating an impressive, welcoming and stimulating environment for the students.
"I am particularly pleased that the lion's share of the building work will go to Hartlepool firms, which is marvellous news for our local economy."
Head teacher Bill Jordon added: "This fantastic new building will help us to provide a much better environment for our students, both for learning and socialising, which in turn will help us to increase their achievements even further.
"With its wide range of learning spaces the College's design will enable us to focus even more individual attention on each young person."
Work is expected to be completed by 2012.
Related Internet Links
The BBC is not responsible for the content of external sites.