Mayor Ray Mallon says Middlesbrough left vulnerable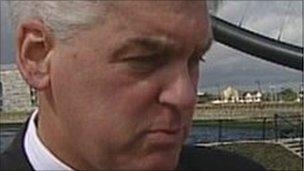 The Mayor of Middlesbrough, Ray Mallon, has described the Spending Review cuts as a "black day for the area".
Middlesbrough Council will have to make savings of £45m over the next four years and Mr Mallon warned there would be job losses.
He did not say how posts would be shed, but said the cuts would leave Middlesbrough "vulnerable".
Stockton Council said it had made savings of £16m in the last three years, which would soften the blow.
A recent BBC survey found that Middlesbrough was the least resilient area in the UK.
Mr Mallon said: "Middlesbrough has 23 council wards, 16 are socially deprived - five are in the top 1% of the greatest socially deprived in the country - we have a lot of challenges where social deprivation is concerned.
"There was not one part of the Spending Review speech that indicated that we would be given any special dispensation to tackle the social deprivation factors that we clearly have.
"This is a black day for the area."
Stockton Council leader Ken Lupton said: "While it will be some time before we understand the full details of what has been announced, it's clear that these reductions are of a scale and pace that are unprecedented for local government.
"That said, the council has been preparing for budget reductions of this scale over the past three years and has adopted a managed approach to dealing with them.
"To date we have been able to make savings worth £16m through a range of methods, including restructuring the organisation to streamlining our management team and our refuse workers moving to a four-day week."
Related Internet Links
The BBC is not responsible for the content of external sites.