Mystery of shoe found at Teesside 'crash site' solved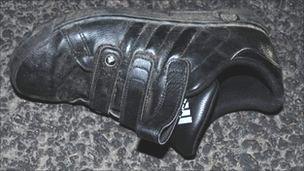 Police have traced the owner of a shoe which was found close to where a driver thought she had hit a pedestrian.
The woman called Cleveland Police on 25 October to say she thought she had hit someone, but could not find a casualty although her car was damaged.
A black trainer was all that was found in a search of the A174 at Eston.
A 12-year-old boy has now come forward to say he was involved and suffered minor bruising in the incident. Police said no further action would be taken.
A force spokeswoman said: "After extensive searches, we could not find a casualty but needed to trace the owner of the shoe to see whether it was connected to the incident.
"Following an appeal, the mother of a 12-year-old boy from the Bankfields area of Eston came forward and confirmed that the shoe belonged to her son.
"Police spoke with the boy, who had suffered bruising to his ankle as a result of the collision, but had no other injuries."
Related Internet Links
The BBC is not responsible for the content of external sites.