Bananas help birds fend off cold at Saltholme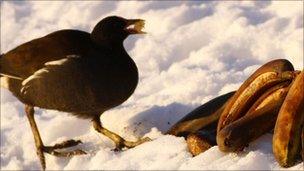 Bananas are providing a lifeline for birds at a Teesside nature reserve during the wintry weather.
The discovery came by chance, after fruit was donated to Salthome wildlife centre by a local supermarket.
Many birds eat fruit like apples and pears, which they would find naturally, but staff were unsure what to do with the bananas.
However, when scattered around the edges of frozen ponds they proved to be a surprise draw for water birds.
Toby Collett, Saltholme's assistant warden, said: "We were lucky to receive lots of different fruits from Tesco, but it's the bananas that have revealed some of the birds' hidden cravings.
"Before we knew it, large groups of moorhens, ducks and geese had taken a real liking to the bananas.
"Some of them were even squabbling over the empty skins."
Staff have now decided to make them part of the bird's winter diet.
Mr Collett added: "If anyone has a bunch of bananas that's looking past its best, bring them to Saltholme and drop them off at reception.
"We'll reward you with a free hot drink."