Hartlepool Council ends 24-hour drinking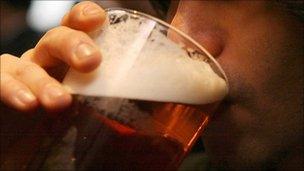 Council bosses in Hartlepool are calling time on 24-hour drinking.
The extended hours, brought in five years ago, have not led to the drop in violent crime and anti-social behaviour which was expected, the council said.
Closing times will now be no later than 0200 GMT in the town centre area, and no later than 2330 GMT in residential areas.
Hartlepool Licensees Association said the move could lead to job cuts.
Currently, some venues stay open until 0400 GMT, but licences will now limit opening hours.
Ian Harrison, the Labour-run council's principal trading standards and licensing officer, said he believed the later opening hours cost more than it had brought into the town centre.
He said: "We're looking at whether the ideology of 24-hour opening has been successful in Hartlepool, and the consensus is that it hasn't been.
"A number of premises have had their licenses reviewed, and on some occasions, those licenses have been put back to the new times.
"We will take every application on its merits, there isn't a blanket ban, but we would not generally look at issuing a licence beyond 0200 GMT."
He added that legislation being considered by Parliament would give councils new powers to address all current licences and make changes where necessary.
Hartlepool Labour MP Iain Wright backed the plan, and said he did not think the problems were isolated to Hartlepool or the North East.
He said: "Drinking habits have changed throughout the country, drinking at home and then staying out until 0400 GMT. It's a serious social problem.
"Crime is still a problem late at night on a Friday and Saturday night."
Richard Sewell, from the Hartlepool Licensees Association, said: "People's jobs and livelihoods depend on the business that they take in-between these early hours.
"It hasn't worked, but that's the government's fault. You can't set people up to work those hours, and then suddenly put them out of work.
"It needs looking at in a more refined way from the councils than just saying we'll close all the pubs that are open."
Related Internet Links
The BBC is not responsible for the content of external sites.