Cleveland Police target festive domestic violence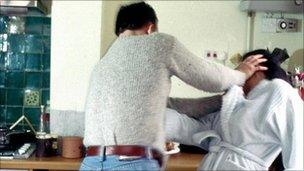 Cleveland Police has begun a crackdown on domestic violence during the festive season, when levels are the highest of the year.
Operation Guardian II will run in Stockton until 3 January.
An additional dedicated vehicle has been provided to ensure a swift response to any incidents.
Last year in the force area there were 384 reports between 26 December and 1 January. No other weekly period in year had more than 300.
Officers who attend the scene of a reported domestic assault have cameras to record the evidence, and will hand out Women's Aid leaflets detailing how victims can get support.
Arrests will also be made where necessary to protect the victim and any children in the household from further harm.
Ch Insp Ted Allen, said: "By providing an additional domestic violence car we can ensure that we have the resources available to respond quickly to any reports of violence in the home, gather any evidence that will be needed to secure a prosecution and, above all, to protect the victims from further violence and offer them help."
Related Internet Links
The BBC is not responsible for the content of external sites.