Seven new supermarkets on Teesside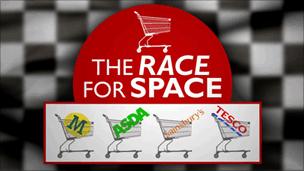 At least seven new stores operated by the 'big four' supermarkets have been given the go-ahead on Teesside in the past two years, BBC research has found.
The BBC contacted planning authorities to discover how many shops Asda, Morrisons, Sainsbury's and Tesco had approved in the two years to November.
Of the seven successful applications, six were from Tesco, with four in Middlesbrough alone.
The research shows planners approved at least 577 stores in the UK.
Asda had a store approved in Stockton.
Earlier this year Stockton Council also signed a deal for the expansion of an existing Tesco in Ingleby Barwick with the creation of 100 new jobs.
As part of the deal, Tesco will spend £1.3m on highway improvements in the town to deal with congestion.
Members of Stockton Borough Council planning committee voted in favour of the plans for the Ingleby Barwick store in February.
More than 100 objections from residents and traders were submitted over fears the store would have a detrimental effect on small businesses.
Richard McGuckin, head of technical services for Stockton Council, said the planning process took 18 months because the council wanted to lessen the negative impact of the revamp on local traders.
He said: "A £5m programme to deal with congestion in the area is already in the pipeline, but expanding the store size by 50% will bring even more cars to the area.
"This had to be taken into consideration - roads need to be widened and access improved so the area is not any worse off.
"We also had to factor in the small business and it was agreed that Tesco would not open a pharmacy in the redeveloped store and that it would contribute £1.3m towards highways improvements."
In a statement, Tesco said most of its applications were for small, local convenience stores rather than large supermarkets.
It said: "We always put customers first and we have invested in the UK even during the worst recession in living memory, creating tens of thousands of jobs, many in the most deprived areas of the country."
Related Internet Links
The BBC is not responsible for the content of external sites.