Stockton Council facing big pothole repair bill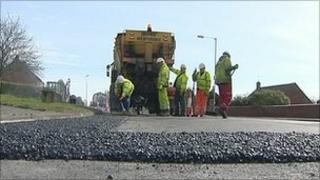 A Teesside council is expecting to have to spend at least £500,000 on repairing roads damaged by potholes for the second year running.
Stockton Council asked the government for cash help after last January's freezing temperatures resulted in the creation of hundreds of potholes.
The authority has predicted a similar situation this year on its 512 miles (824km) of roads.
Council patrols are assessing the damage already caused to major routes.
Potholes are created by water which becomes trapped under the road surface and then freezes and expands.
Richard McGuckin, head of technical services at Stockton Council, said: "Last year was an unprecedented winter and we saw the after effects right into the summer with repairs being carried out.
"We have invested in our roads to improve them, but it looks like it is back again to haunt us.
"We are busy trying to identify what the major problem areas are and we have crews out at the moment and where there is an obvious safety hazard we will fix those straight away.
"But there will be areas where there will need to be a more substantial resurfacing of the road.
"We are facing a substantial bill. Last year we spent an additional £500,000 on potholes and while it's early days I would anticipate us facing a similar problem."