Body of Teesside soldier flown home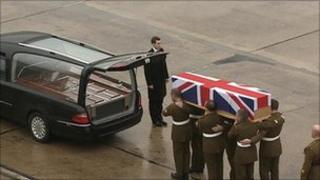 The body of a Middlesbrough soldier killed in an explosion in Afghanistan has been flown back to the UK.
Warrant Officer Class 2 Charlie Wood, 34, was serving with 23 Pioneer Regiment, The Royal Logistic Corps.
He died after a bomb exploded on 28 December as he was helping co-ordinate the bomb clearance of a road in Lashkar Gah, Helmand Province.
He was flown back to RAF Lyneham in Wiltshire. After a private ceremony the cortege passed through Wootton Bassett.
His wife, Heather, stood at the side of the road during the procession wearing her husband's medals.
She placed red roses and a Middlesbrough Football Club scarf on his hearse as it passed through the town.
'Masses of potential'
More than 100 men from 23 Pioneer Regiment joined the family for the first repatriation of 2011.
A total of 349 UK military personnel have died since operations in Afghanistan began in 2001.
WO Wood was serving as an advanced search adviser with the counter-IED task force, based in Oxfordshire, helping to co-ordinate the search for devices in the Khushdal Kalay area, when he was killed.
He had joined the Army in 1994 and gained rapid promotion, before serving in Iraq in 2003 and Bosnia in 2007.
The Ministry of Defence issued a statement describing WO Wood as having "masses of potential".
It said he was also a fundraiser who had raised thousands of pounds for armed forces charities.
He was a keen footballer and a supporter of his home town team, Middlesbrough.
Sgt Craig Perry, 36, of 23 Pioneer Regiment said: "He was a happy-go-lucky type of guy and he had an infectious personality.
"He would basically do anything for the guys, he was always for the lads and he would always look after them first putting them before himself.
"He had the mentality that he wouldn't send anybody out to do something he wouldn't do, he was always with the lads and diligent and professional through and through."
Only a few days before his death, he was organising the Christmas celebrations for his men.
WO Wood leaves his widow Heather, mother Barbara, father John and sisters Samantha and Amanda.
In a statement, Heather Wood said her husband had been her "best friend".
"Charlie had an infectious personality who made a positive effect on everyone he met; he had a heart of gold and endeared himself to everyone.
"He will be forever in our thoughts for the rest of our lives."