Further legal wrangle over Billingham House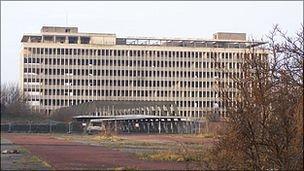 A council is pressing on with the demolition of a 50-year-old derelict office block despite a legal wrangle.
Billingham House, the former ICI headquarters, in Belasis Avenue, has been made an eyesore by vandals and arsonists over the years.
Its owner Bizzy B management wants to refurbish the building and has applied for a judicial review.
But Stockton Council said demolition preparatory work is well underway and it is carrying on with its plans.
Richard Poundford, head of economic development and regeneration for Stockton Council, said he was confident the council would win a judicial review.
He said: "We've done a lot of preparatory work for the demolition and have identified further traces of asbestos in the building which we need to sort out.
"We are intent on carrying on with the demolition which is the most effective solution to solve the problem for the people of Billingham.
"This has been a lengthy saga and we have done everything in our power to bring it to a conclusion that would offer certainty to local people."
Martin Johnson, of Python Properties, said his firm had signed an agreement with Bizzy B to redevelop the area.
He said: "We can't really understand why this project just isn't given the go-ahead - we are actually in control of the site by signing a development agreement.
"But we are not being allowed to get on site by Stockton Council.
"If we'd been given the green light when we signed the agreement in November, we would already be half way through the regeneration project."
In 2007 plans to turn the building into flats fell through.
Related Internet Links
The BBC is not responsible for the content of external sites.