Middlesbrough man wins police compensation case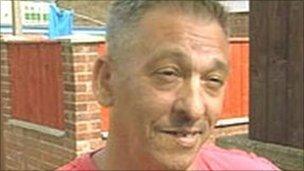 A Teesside man has won a compensation case against Cleveland Police for malicious prosecution.
Karim Allison, 51, from Middlesbrough, complained about an alleged racist comment made by an officer after a traffic incident in 2007.
He was convicted of obstructing an officer, which was later overturned. He then sued the force and it was found it was likely allegations were fabricated.
Cleveland Police said "inconsistencies" were down to inexperience.
Mr Allison, of Ormesby, made his complaint about an alleged racist comment by an officer when his partner was involved in a minor traffic incident in January 2007.
He was subsequently prosecuted and convicted at Teesside Magistrates Court of obstructing a police officer. The conviction was overturned at Teesside Crown Court.
Mr Allison then sued Cleveland Police for malicious prosecution and misfeasance in public office and he won his case at Teesside County Court last month and was awarded compensation.
'Significant' compensation
Cleveland Police confirmed the jury had found the officer had more likely than not used fabricated allegations in his statement.
Despite the outcome, Mr Allison said he felt no satisfaction.
He said: "The compensation is nothing. No amount of money will compensate for the stress and pressure of those four years."
He said he would like there to be an independent investigation into the case.
Mr Allison's solicitor Iain Gould, of David Phillips & Partners Solicitors, said his client had been awarded "significant" compensation.
Cleveland Police said Mr Allison's complaint was investigated by the force's professional standards department and found to be unsubstantiated.
Mr Allison then appealed to the Independent Police Complaints Commission which assessed the appeal and agreed with the outcome of the police investigation.
Cleveland Police said: "In the civil case, the only matter that the jury were asked to consider was in relation to whether a statement from the officer contained fabricated allegations.
"The force is satisfied that inconsistencies referred to in the civil case were because the officer concerned was new in post and inexperienced, rather than any fabrication."
Related Internet Links
The BBC is not responsible for the content of external sites.