Teesside steel plant's £291m sale secures 700 jobs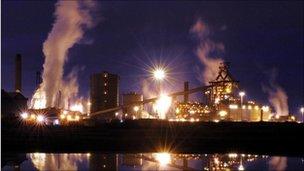 A Teesside steel plant has been sold for £291m after months of negotiations.
Thai company SSI has signed the deal over Tata Steel's Teesside Cast Products (TCP), securing the future of the plant's 700-strong workforce.
The sale comes a year after the Redcar plant was partially mothballed after a major contract fell through.
The transaction - which should also create hundreds of new jobs at the site - is due to be completed by the end of March, the two companies said.
Head of Tata Steel Europe, Karl-Ulrich Kohler, said: "I am very encouraged that after all our efforts we have been able to reach this agreement, which is good news for the highly skilled and dedicated Teesside workforce.
"I commend SSI, the government and the trade unions for their roles in bringing about this agreement, and in particular the people of Teesside for the spirit and fortitude they have shown throughout the last, difficult two years."
'Passion for steelmaking'
SSI president Win Viriyaprapaikit said: "This is a historic moment for both Teesside and SSI, one that would not have been possible without the local community's passion for steel-making and the help of the UK Government.
"We look forward to resuming production of the top quality slab for which the plant is renowned as soon as possible."
Business Secretary Vince Cable said: "This deal is very good news for workers at the Teesside plant and the region.
"I welcome the return of steelmaking to this historic steel site later this year.
"Coming just over a year after the plant was mothballed, it is a tribute to both companies involved - Tata Steel and SSI."
The Redcar site run by Tata Steel, formerly Corus, was partially mothballed in February 2010.
A memorandum of understanding was signed between SSI and Tata in August.
Thursday's announcement was welcomed by politicians, unions and workers.
Redcar and Cleveland Council leader George Dunning said: "Well it's going to absolutely regenerate Redcar isn't it? We've seen it a little bit downcast - not just Redcar, it's Middlesbrough and Teesside and surrounding villages.
"It'll give us a little bit of a new life won't it, we've took a few knocks, but one thing's for certain, the people of Redcar and Teesside, they can come back from a great big knock like the blast furnace going off last year."
Mick Lee worked at Teesside Cast Products for 36 years and said he was delighted.
"We were the best steelmakers, and ironmakers in the world and when the furnace does come back on it's going be great for the area mainly for jobs," he said.
"I'll be over the moon once that furnace comes back on."
Michael Leahy, chairman of the National Trade Union Steel Co-ordinating Committee, said: "This is truly wonderful news for Teesside steelworkers and the wider community.
"I cannot recall a more positive development in over 40 years of my involvement in the UK steel industry.
"To think that a year ago today was the eve of the mothballing and we have now saved our steel is fantastic."
Related Internet Links
The BBC is not responsible for the content of external sites.