Teesside councils face shortfall in pothole repair bill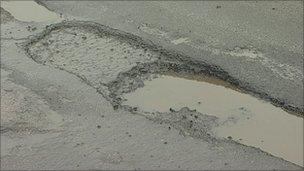 Two Teesside councils claim they will not have enough cash to pay for thousands of potholes to be repaired.
Hartlepool and Redcar and Cleveland councils said budget restrictions meant only the most dangerous stretches of road would be treated.
The authorities were responding to Freedom of Information (FoI) requests from the BBC.
Darlington Council estimated it would have enough resources to cope, even though a final budget has not been set.
Stockton Council made no response to the FoI request, but has already confirmed it will have to find at least another £500,000 to cope with damage caused by freezing weather at the end of 2010 and in January this year.
A spokesman for Labour-controlled Hartlepool Council, which has so far put aside £823,000 to tackle the problem, said: "The view of the highways manager is that this figure may not be enough to deal with all of the road repairs in this area."
However, the council said it had seen a drop in the amount paid out in compensation claims linked to damaged roads.
In the year to March 2009, the authority settled claims worth £115,000. In the current financial year just £84 has been paid out.
Redcar and Cleveland Council, which is controlled by a partnership between Labour and four independent councillors, said it had so far spent £1.5m revenue and £1.4m capital on road repairs in the current financial year.
It has also initially put aside £1.4m revenue and £1.4m capital for the coming 12 months.
But a spokesman said: "The budget will not be enough to cover all defects on the roads.
"What it is sufficient for is to ensure that all defects which are a safety hazard to users will be repaired within certain timescales.
"We will also ensure we have a programme of planned maintenance schemes to eradicate some areas which have been identified from previous years which require more structural maintenance."
The council, along with neighbouring Middlesbrough, also saw a drop in compensation payments.
Last week, the government said it would be putting aside £100m for councils to bid for if they felt they had been badly hit by potholes.
Related Internet Links
The BBC is not responsible for the content of external sites.