Middlesbrough youngsters in bid for city status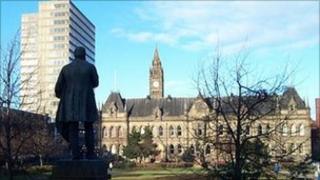 Middlesbrough schoolchildren are being asked to write to the Queen, urging her to grant city status to the town.
The town is one of a number hoping to win the title as part of the Queen's Diamond Jubilee celebrations in 2012.
Over the coming weeks elected mayor Ray Mallon will be visiting primary schools to drum up support.
A formal bid in May will feature a detailed profile, photographs of key sites and landmarks and a summary of why it deserves to be the one chosen.
Mr Mallon said: "The young people of Middlesbrough are its future and that's why it's so important that they are at the heart of this campaign.
"Historically Middlesbrough is at the heart of an area with a proud industrial heritage that is the match of anywhere in the world.
"Middlesbrough already competes on an equal footing with other towns and cities across the UK and beyond, but city status will help us move forward and on to the next level.
"This is a town confident of its place in history, but it is vital that it can look to the future with equal confidence.
"We are already a city in everything but name, it's hard to think of anywhere with a stronger case."