Arson not ruled out as Teesside farm fire cause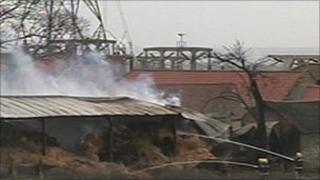 Police are investigating whether a fire at a Teesside farm was caused by arson.
The alarm was raised in the early hours by a passing motorist, and at the height of the incident at Lackonby 25 firefighters were at the scene.
Extensive damage was caused to the barn and machinery at Old Hall farm and livestock had to be moved quickly from nearby buildings.
Fire investigators and police are due to carry out a detailed examination in a bid to establish the cause.
A Cleveland Police spokesman said: "The possibility that it was started deliberately cannot be ruled out."
He urged anyone who noticed any suspicious activity in the area to contact the Cleveland force.