Middlesbrough Music Live name change to INTRO festival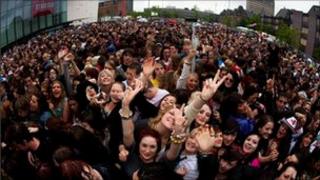 Middlesbrough Music Live will be back with the name INTRO on Sunday 5 June.
Entry will no longer be free. Tickets cost £15 for adults, and £5 for under 13s in the run up to the event, though 'Early Bird' tickets will be cheaper.
Bands this year are Example, Feeder, Fun Lovin Criminals and Chipmunk amongst over 90 others.
Graham Ramsay of promoters Ten Feet Tall said: "We want people to view the festival in a new light, so this is very much a fresh start for us."
"INTRO is short, snappy, contemporary, and looks great on a T-Shirt - which is always the ultimate test for any new name!" He added.
"It also doesn't tie us into just live music alone - and opens doors for us to look at anything from comedy to cinema, street theatre to performance art."
Tickets
5,000 Early Bird tickets, priced at £9.50 will go on sale from 1000GMT on Saturday, 2 April on a first come first served basis until the end of April, or until they sell out - whichever comes first.
Early Bird tickets for accompanied Under-13s will be priced at £2 if bought before the end of April.
After that, the full-price adult tickets will be priced at £15, and Under-13s at £5.
Accompanied under seven-year-olds go free, no ticket required.
There will no tickets available for sale on the day itself.
Explaining the festival's new name, Graham said: "We really hope that people like it - it just feels fresh and contemporary and a bit of a statement about what we stand for.
"As a name, INTRO doesn't tie us strictly to live music or any one thing in particular - it means that we can branch out into street theatre, cinema, comedy, whatever - anything that will fit right with the core music programme which will always be at the heart of what we do.
"And, just as importantly, there'll be room for some great local bands on our Homegrown Stages too - and we'll be announcing more news on the application process for local bands soon."