Middlesbrough family recall baby Alex Griffiths' kidnap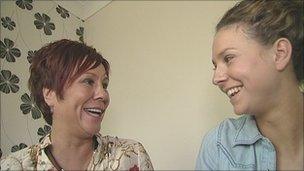 Twenty-one years ago Dawn Griffiths was left distraught when her two-day-old daughter Alex became the first baby to be kidnapped from a UK maternity ward.
Two decades on, the Middlesbrough mother and daughter are inseparable friends.
Alex was missing for 17 days, after a woman posing as a health visitor took her from London's St Thomas' hospital.
Now, the family are preparing to celebrate as Alex graduates from Manchester University.
Ms Griffiths, 42, used £110,000 she received for telling her story to the tabloid press, to pay for a private education for Alex.
But she admits the harrowing memories of January 1990 will never be totally banished.
"When Alex came back everyone presumed all would be okay," she said. "But, to be honest that was the start of an even worse nightmare.
"I didn't bond with her, I never hurt her, but I just couldn't bond with her.
"I slept with my hand on her chest in case she stopped breathing and I couldn't even cross a road because I thought we would get run over.
"It came to a point when I thought she would be better off without me. So I wrote my mum a note and tried to kill myself.
"But thank God I didn't and I'm still here."
Alex said she was told of the kidnapping from an early age.
She said: "Now and then mum would get out a folder with all the newspaper clippings and we'd sit down and have a look at them.
"It's hard to say how my life would have turned out without my private school. But I've had a great time and know I am very fortunate to have had such a wonderful opportunity."
Alex is completing a maths and business degree at Manchester University. She is expecting get first class honours and has already been unconditionally offered a job as a business consultant."
Her mother said: "I gave Alex all that money and it was the best thing I've ever done.
"It's just amazing how well she's done for herself.
"Sometimes she thinks I'm one of her classmates and seems to forget that actually I'm her mother."
Alex's kidnapper, Janet Griffiths (no relation) was eventually convicted and sentenced to a term in a psychiatric hospital. She died of cancer several years later.