Abused children's care criticised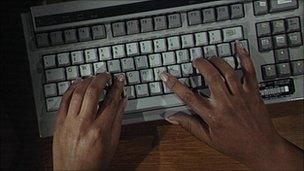 A woman whose daughter was sexually assaulted has spoken out about what she says is a lack of support for victims.
The woman from County Durham says despite panic attacks her daughter had to meet support workers in a supermarket cafe, as they were based too far from her home.
The woman, "Julie", is now setting up a support group network to support victims and their families.
She said: "I just couldn't believe that. Sitting in a cafe while everyone's banging their knives and forks, kids screaming, talking about something so sensitive.
"Under the age of 16 there's nothing. You're left to just deal with it, which I think is completely wrong, because they're the most vulnerable, because they don't know what's happened to them and they're blaming themselves."
Julie says she noticed a change in the behaviour of her daughter "Jenny" two years ago.
At first she put it down to teenage angst but one day Jenny did not come home from school until just before midnight.
Julie, disturbed by her behaviour, decided to take a look at her daughter's phone for signs of bullying.
What she found was, in her words, "more alarming than that".
She realised her daughter was being groomed on the internet.
Julie called the police, who arrived within 20 minutes. They spoke to Jenny, took a statement and she told them that the texts were from a modelling agent.
By mid-day the CID were at the door. They told Julie they thought the messages were from a man already under investigation.
Julie realised she had met the man at her house thinking that he was a genuine agent.
He had seen her daughter's photos on a social networking site and approached her online.
She had asked him to leave because her daughter was only 13 and she would not allow her to model.
Julie later found out that the man had been grooming her daughter for four months and had met and sexually assaulted her.
Detectives told Julie he was a predator with prior convictions and they were desperate to "put this man away for a long time".
There were months of giving statements and being interviewed by the police.
When the day of the trial arrived, the man pleaded guilty to four offences including sexual assault.
Because the family did not get their day in court, Julie said she was left feeling that the full extent of what happened to her daughter had not been heard.
"Myself and the police know from the statements that were given that it was a lot worse than that, what he did, and he knows that.
"He knows if we'd got our day in court it would have all come out. My daughter would have had a chance to say and I would have had a chance to say also."
Jenny's abuser was sentenced to four years in total - two years for offences committed against Jenny and two years for other offences, which included grooming another 13 year old girl while on bail.
The case later went to appeal and he received an indeterminate sentence of imprisonment for public protection with a minimum of four years imprisonment.
Julie says the last two years have been extremely difficult.
It was because of the lack of support that Julie decided to set up her own support group, a place where children can talk to others with similar experiences and a place for parents to also come together and talk.
She is now making contact with other families who have gone through similar experiences.
Mother's and daughter's names have been changed to protect their identities.
Related Internet Links
The BBC is not responsible for the content of external sites.