Redcar seafront busy despite backfront engineering work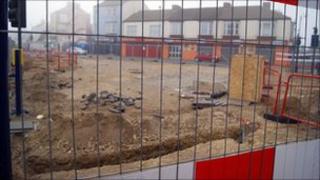 Warm weather in April saw visitors arrive in Redcar in their thousands, as major engineering works on the promenade gathered pace.
The two year project began in March 2011.
Some of the work is necessary to protect the town from coastal erosion, while other developments are purely cosmetic.
The £30m project is part of a larger £75m programme of works planned for the town.
While some of the longer term developments, such as the town's proposed 'vertical pier' have proved controversial, visitors to the seafront who spoke to BBC Tees were largely supportive of the improvement works to the promenade and sea wall themselves.
The tourist information centre and toilet block have been demolished and work has begun around the old Leo's nightclub site to construct sea defences.
Donna Robinson, a Flood defence engineer at the Environment Agency said: "The scheme will be completely different to what you can see now.
"There'll be a stepped bank leading up from the sand, up to a big wave retaining wall. It's very similar to schemes like Blackpool and Cleveleys.
"There'll be a new promenade behind, which has been designed by the council. The new promenade behind has been designed specifically to accommodate the new sea wall, which is going to be probably about 70cm higher than it is currently.
"That can make quite a big impact, but we don't want people to not be able to see the sea when they're on the promenade."
Redcar and Cleveland Borough Council says the busiest areas of the seafront will stay open to the public during peak tourist times.