Teesside University confirms £8,500 tuition fees plan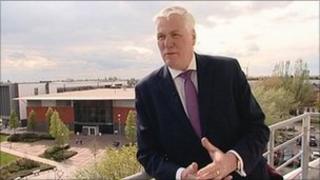 Teesside University has confirmed it wants to charge students £8,500 a year in tuition fees.
Newcastle and Durham have recently announced they plan to charge the highest level of fees of £9,000 a year from 2012.
The proposed fees are subject to approval by the Office for Fair Access
Teesside's vice-chancellor Graham Henderson said the university "had to give out a signal" about the value placed on degrees on Teesside.
He said: "We have to make sure it remains affordable for students.
"We have to give out a signal about the value we place on degrees from Teesside.
"Our current students are keen that we make a statement.
"We try and balance all those things in coming to the fee of £8,500, which we think reflects the value of our awards but also gives us the income we need to provide a great student experience."
Government 'condemned'
Lori Wheatman, president of the student union at Teesside University, said a "marketplace" had been created by the introduction of higher rate fees - of which "no university wanted to be seen at the bottom".
She said "From a student union point of view, we condemn the government for putting the proposals in place, but the university had to charge something."
"We don't want to be seen as a second-rate uni.
"I don't think we are a second-rate uni at all, so why wouldn't we charge it?"
She said emphasis needed to be placed on the fact that no fee was an up-front payment, but would be paid back when earnings topped £21,000.
In 2009 Teesside University was named University of the Year in the Times Higher Education awards.