Shop takes on role in community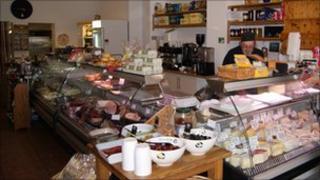 An organic and local food shop on Teesside is to use part of a £33,000 business grant to stage community events.
Real Meals has been in Saltburn for 12 years, and was awarded the money to expand its business and create three new jobs.
The funding has come from the Rural Development Programme for England.
It will be used to upgrade the shop's premises and to stage community activities including a cookery club.
Local importance
Other activities demonstrating the importance of using local produce are also in the pipeline.
Lorna Jackson from Real Meals said: "We have, I think, a very wide business ethos, so it isn't straight retailing. I think that's not enough these days - you can't just sell, sell, sell to people...
"It's not straight economical business, I suppose, but it's that softer side of business that I think is really important."
The Rural Development Programme allocates grants of between £10,000 and £50,000 available for farm businesses across the Tees Valley wishing to diversify.