Teesside school cleaners' £4m lottery win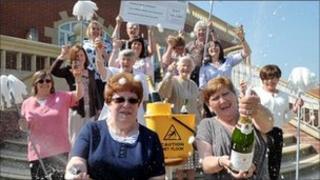 Sixteen school cleaners from Teesside are each £255,000 richer after their numbers came up on the lottery.
The colleagues, who run a syndicate at Egglescliffe Comprehensive School, won £4,091,609 between them in the triple rollover jackpot on Saturday.
The women had been buying three lucky dips a week, each contributing £1 every five weeks, for the past three years.
Cleaner Marie Kennedy said: "It's going to take something to top this one."
Pam Clarkson, 68, who runs the syndicate, said: "I thought I had four numbers at first and then I realised I had the six, so I rang my friend down the street and told her to come up.
"It was really late by this time and the lottery line had closed, so I waited until Sunday morning to call Camelot and tell all the other syndicate members.
"I didn't sleep much that night, I can tell you."
After initially not believing that they had won, the syndicate members have been compiling a shopping list of how to spend their winnings.
New cars, a bungalow and paying for a daughter's wedding are on the shopping list, although the women said they are still in shock and the news has yet to sink in.