Kayakers rescued after drifting in sea near Redcar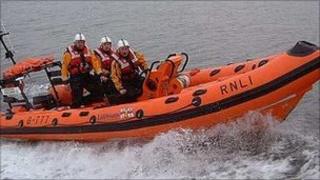 Two kayakers fishing off the coast of Teesside had to be rescued after one lost a paddle and began drifting towards rocks on Teesside.
One of the men called 999 and the Redcar RNLI lifeboat was scrambled to fetch the pair within minutes.
RNLI spokesman Dave Cocks said the other man had tried to help his friend, who had lost his paddle, and they both got into difficulties on Saturday.
They were taken to safety and rescuers praised them for wearing life jackets.
Mr Cocks said: "The seas weren't very rough but they were concerned for their own safety so they did the right thing by calling for help.
"They were equipped with life jackets and we are always pleased to see that when we get alongside.
"The advice is to take a marine VHF radio when anybody goes to sea. A mobile phone may not always get a signal and may become waterlogged and the coastguard can direction-find a VHF radio signal."