Business backing for Middlesbrough city status bid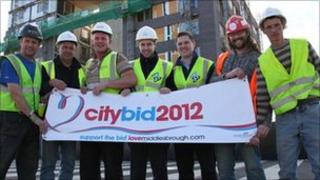 Business bosses have given their backing to Middlesbrough's bid to gain city status.
The town is one of a number hoping to secure the title as part of the Queen's Diamond Jubilee celebrations in 2012.
More than 90 business people attended a networking event, and heard a talk outlining the benefits it would bring.
The city status bid team said that because local companies had got behind the bid it could be done at little cost to the Labour-run authority.
Pete Hallsall, managing director of development company BioRegional Quintain, described Middlesbrough as a "very ambitious place with warm, friendly people who want the area to keep on improving".
He said: "Attracting national and international investment in an area depends on confidence and profile. City status would really help Middlesbrough boost both.
"This investment would create more jobs, attract further companies to the town and improve overall prosperity."