Middlesbrough College in £10m UTC bid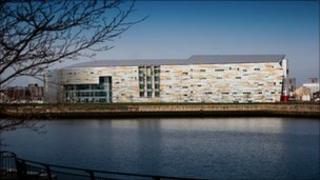 Middlesbrough College is bidding to develop a £10m University Technical College at its Middlehaven site.
UTCs aim to offer 14-19 year olds technically-based courses and are seen as a way of engaging pupils more interested in practical subjects.
The new centre would be in addition to the Sixth Form College already announced, and would provide education for 500 to 800 pupils.
Teesside University will sponsor the UTC, if the bid is successful.
As well as studying technical subjects, UTC students would take GCSEs in the core subjects of English, maths, science and IT. They would also take part in sports and learn how to set up a business.
Support from employers
Middlesbrough College Principal Mike Hopkins, said: "There is a compelling case for UTCs - some students are very capable of taking vocational decisions at the age of 14. They know what they want to do.
"It is these students the new UTC would attract from across the Tees Valley. We are looking at offering specialisms in engineering - both traditional and digital.
"Middlesbrough College would pay for half the cost of building the college and the bid is for the other half from the Government."
"One of the criteria of the bid is that you have to have employers already signed up to support the UTC and we have great interest from some fantastic companies across the Tees Valley.
"We will be looking to them for apprenticeship placements and release, as well as keeping us up to date with the latest in their industries.
"This is about looking at the bigger picture and seeing that not everyone is an academic high-flyer.
"It is a ground-breaking initiative that could have a major impact on youth unemployment in the Tees Valley."