Iconic Bridge to be illuminated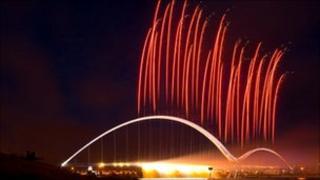 Infinity Bridge will light up the skies of Stockton on Saturday 14 May as part of the Infinity Festival.
It is the first time the bridge has been lit up like this, and it is in celebration of the historic river below it.
The illumination of the Bridge will also mark the end of the Tees Regatta.
There will be a procession of fire and water structures leading up to the Infinity Bridge from the Riverside car park from 2115 GMT.
The lighting effects will be visible until 2330 GMT, and visitors are encouraged to take part.
Jan Doherty, Stockton Council's Arts Development Manager, said: "Infinity Bridge has made a real impact on the Town's skyline and its stunning architecture has gained it accolades from across the world.
"The Infinity Festival is a celebration of the Bridge and River Tees and it really will be a breathtaking spectacle which will light the skies for miles around."
The Infinity Bridge is a public footbridge across the River Tees and cost £15m. It gets its name from the infinity symbol formed by the bridge and its reflection.
It officially opened on 14 May 2009 and was a major part of the North Shore Redevelopment Project undertaken by Tees Valley Regeneration. When it was opened there was a firework display, but organisers say this will be the first time the bridge is lit up in this manner.