Arrest after boy, 11, hit by swing in Darlington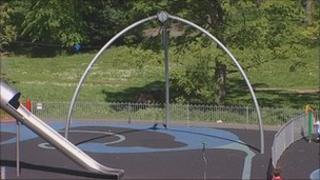 An 11-year-old boy has suffered serious head injuries after being hit by a swing in a park in Darlington.
A 15-year-old girl has been arrested on suspicion of causing grievous bodily harm and released on police bail.
Police said Kieran Snee was injured while playing with his 10-year-old cousin at Denes Park on Friday.
He underwent surgery at James Cook University Hospital where he is currently in a critical but stable condition on a life support machine.
A spokesman for Durham Police said the 11-year-old walked home from the park area but collapsed later.
'Extremely brave'
Kieran's parents said their "world had been turned upside down" since the injury to their "lovely playful boy who would not hurt a fly".
They added that Kieran's 10-year-old cousin had been "extremely brave" through the ordeal.
They said they were overwhelmed by the support they had received from the police, hospitals and members of the public.
Police have appealed for any witnesses to the incident to contact them.