Ray Mallon wins third term as mayor of Middlesbrough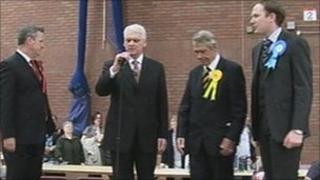 Ray Mallon has won a third term as elected mayor of Middlesbrough.
The Independent candidate won 17,917 votes - 50.4% of the share - after a hotly-contested campaign.
Elsewhere, in the council elections, Labour gained seven seats to win Redcar and Cleveland, which had previously been under no over all control.
It also strengthened its position in Hartlepool and Darlington by gaining five seats in each council. Both were already held by Labour.
Hartlepool Labour group leader, Councillor Chris Simmons, said: "It gives us a substantial majority in the council which means that we will now be able to have a bit more influence."
Labour gained five seats in Stockton, but the council, which is run as a power-sharing arrangement with a Conservative leader, remains under no over all control.
There was little change on Labour-run Middlesbrough Council, with the party increasing its majority by three.
Mr Mallon, a former detective and nicknamed "Robocop" for his tough stance on crime, was first elected mayor in 2002 and re-elected in 2007.
During his most recent campaign he had come under attack after secret recordings of him making critical remarks during a dispute about taxi drivers.
Labour candidate Mike Carr came second with 11,405 votes, Lib Dem Chris Foote-Wood won 3,256 votes, and Conservative Lloyd Cole-Nolan 3,001.
After the result Mr Mallon paid tribute to his fellow candidates, and talked about the importance of social regeneration for the area.