Redcar's sea flood defence work to start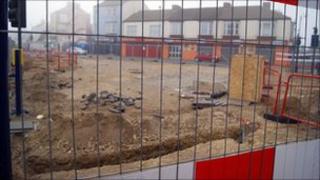 The first section of a new sea flood defence is due to be lifted into place at Redcar.
It is part of a £30m project to regenerate the town's seafront.
The first section of wall will be made from pre-cast concrete sections which will be winched into place by a giant crane.
Approximately 1,000 pre-cast concrete units will make up the whole scheme. The first sections are being put into place around the old Leo's Nightclub.
Over the last three months, 900 steel piles have been driven into the beach over a distance of 1,476ft (450m), to support the new sea wall.
The new defences at Redcar, which started in January this year, are expected to be complete in Spring 2013 and aims to reduce the risk of flooding to 1,000 properties in Redcar.
The new wall will stretch for 2.7 kilometres, from Coatham to the eastern end of the Stray, and is intended to reduce coastal erosion and flood risk for the next 100 years.
Environment Agency project manager James Mead said: "There are many advantages to using these pre-cast sections. By manufacturing off-site we can carry out the works quicker, reduce noise and disturbance and have a much lower environmental impact.
"Birse Coastal has successfully installed similar schemes before, including Blackpool, to cut down the amount of construction time on the seafront."