Middlesbrough to host Olympic flame in 2012 torch relay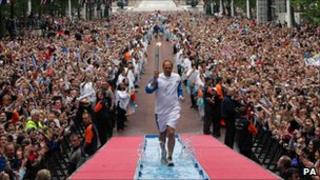 Middlesbrough will be one of the evening stop-offs for the Olympic flame during the torch relay leading up to the 2012 Olympic Games.
Thousands of torch bearers are being recruited for the flame's 70-day journey across the UK before the opening ceremony in London.
The dates and locations for the evening stop-offs have now been announced and include Middlesbrough on 17 June 2012.
There will be an evening of events in the town to mark the flame's arrival.
Middlesbrough is one of the first 74 locations announced. More details about the route will be announced later this year.
The Olympic flame will arrive in the UK from Greece on 18 May 2012 and the torch relay will start at Land's End, Cornwall, the following day.
It is estimated it will be carried 8,000 miles before arriving at the Olympic Stadium on 27 July.
'Real buzz'
Middlesbrough council said plans were under way to mark the arrival of the torch in the town on 17 June next year.
Middlesbrough's deputy mayor Dave Budd said: "The town has a rich sporting heritage and we are enormously proud to be playing a part in the historic 2012 Olympic Games.
"There's already a real buzz about the Games and this will add further impetus to celebrations in the town as the Olympic spirit gathers momentum.
"I have no doubt that local people will give the Olympic flame a welcome and send-off to remember."
London 2012 chairman Sebastian Coe said: "The Olympic flame will shine a light right across every nation and region of the UK and showcase the very best of who we are and where we live."