Swing fall Darlington coma boy on road to recovery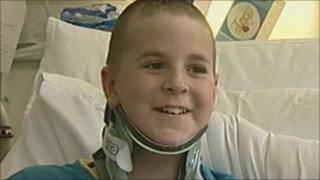 An 11-year-old boy who was left in a coma after falling from a swing is on the road to recovery.
Kieran Snee suffered a blood clot on his brain when he hit his head in Denes park, Darlington, on 29 April.
He underwent surgery at James Cook University Hospital and was given a 50% chance of survival, but is now out of the coma and walking unaided.
Two girls, aged 15 and 16, arrested on suspicion of causing grievous bodily harm have been bailed.
Durham Police said Kieran was injured while playing with his 10-year-old cousin.
Kieran managed to walk home but then collapsed and his family took him to hospital.
He said: "I feel relieved - I'm actually OK. The doctors said to my dad that the chances of me surviving were 50/50 but now it is 100 to zero.
"I can remember being pushed on the swing and then this big pain going into my head, I hit my head and I forgot everything."
The swing has been removed from the park by Darlington Council and is undergoing safety checks.