Job losses at Teesside steelworks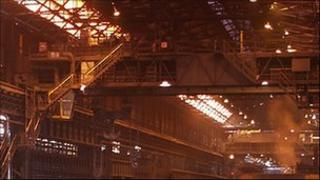 Hundreds of steel jobs are to go on Teesside as part of nationwide cutbacks by Tata Steel.
Lackenby Beam Mill and Skinningrove Long Products will lose 300 posts, while Hartlepool Energy Mill will lose 90.
Tata announced the cuts as part of a programme of 1,500 job losses.
Earlier this year, Tata sold Teesside blast furnace to Thai Steelmaker SSI, but still employs 1,800 steel workers elsewhere on Teesside.
The 300 jobs to go at Lackenby and Skinningrove are part of a programme of cuts at Tata's Long Products Division.
The majority of jobs will be lost at the company's Scunthorpe works.
Tata says it is investing £400m in the division over the next five years and that this restructuring is designed to turn the business around.
Leader of Redcar and Cleveland Borough Council Councillor George Dunning said: "Redcar and Cleveland Council are getting pretty experienced in relation to plant closures and job losses.
"Our people will be up and running with Jobcentre Plus and working with our partners and we've got our own routes to employment people as well. I think there are still avenues in the steel industry."
Decline in construction
Lackenby Beam Mill was commissioned in 1958, and originally produced steel for the bridge building industry.
The 1980s and 90s saw Britain's steel industry fall into steep decline and thousands of jobs went on Teesside, but today the mill is still a major employer in the area.
Before the economic downturn, the beam mill was producing about 15,000 tonnes of finished beams or columns every week and employed 500 staff.
Tata Steel says the Long Products business has continued to make losses over the last two years, blaming a decline in the construction and other sectors.
The company says demand for structural steel in the UK is only two-thirds of the 2007 level and is not expected to fully recover within the next five years.
Hartlepool Energy Mills
Tata Steel Tubes in Hartlepool recruited 100 people last year after securing a pipeline order for the Laggan and Tormore gas fields, to the west of Shetland.
The company says the announcement of 90 job losses is based on the company's failure to attract further work.
It blames the deferral of deep-water off-shore projects since 2009 and particularly since the oil spill in the Gulf of Mexico in April 2010.
However, the industry is based on securing small numbers of large contracts, so there is a possibility that work could return to the site in the future.