Middlesbrough bids to be a city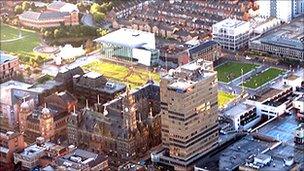 A bid to turn Middlesbrough from a town into a city is approaching completion.
In 2010, the government announced that a new city would be created as part of the Queen's Diamond Jubilee celebrations next year.
The deadline for formal bids was set as the end of May.
Much of the work on the bid was done free by local people and businesses, meaning the overall cost of the bid is in the region of £4,000.
Middlesbrough's deputy Mayor David Budd says, once contributions from local businesses have all been taken into account, much of that cost could also be paid back.
Reading, Wrexham, Perth and Kinross, Goole, Colchester, Chelmsford, Machynlleth, Milton Keynes, Luton, Medway, Gateshead, Southend, Stockport, St. Austel, Croydon, Doncaster, Tower Hamlets and Bolton are also bidding for city status.
While the town has been portrayed in some parts of the media as a tired, declining industrial town, Middlesbrough is, in fact, relatively young.
The story of a youthful, aspiring industrial town forms part of Middlesbrough's case for city status.
Two centuries ago the town was little more than a truck stop for those travelling between Durham and Whitby.
But in 1841, ironstone was discovered in the Eston Hills and industrial development led to a population growth unprecedented in England at the time.
When Prime Minister William Gladstone visited the new town in the 1860s, he described it as an 'infant Hercules'. By 1890, the population had increased to 90,000 and Teesside had become a world centre for steelmaking and bridge building.
As well as the famous Tyne, Lambeth and Sydney harbour bridges, Teessiders have also built bridges spanning the Nile, Yang Tse and Zambezi rivers.
'Porkers, parmos and ASBOs'
Supporters of Middlesbrough's bid to become a city speak of 'prestige' and 'punching above our weight'.
Becoming a city would not bring the town any new money. Middlesbrough Council says that's not the point.
It sees the bid as a step in the process of rebranding Middlesbrough, throwing off the image of a 'town of fatties, teetering on the edge of a precipice of decline', portrayed in some parts of the national media.
While prejudice from a London-based media may go some way to explaining some of Middlesbrough's image problem, no one is denying it is a town with issues.
Research by Experian for the BBC suggested last year that Middlesbrough has the least resilient economy in England.
In other words, it could suffer the most from any economic shocks, including public sector cuts.
The town's economy is disproportionately dependent on the public sector and suffers from an image problem that, the council accepts, has made private investors tough to attract.
It is that negative view of the area and the desperate need to get the private sector to look again at Middlesbrough, that gives this campaign of 'pride and passion' a harder economic edge.
Financier and property developer Andy Preston of Green Lane Capital said: "Although winning isn't critical to the changes we need to make to propel the town to a successful future, it would boost our confidence."
The hope is that the attention would give the town an opportunity to sell itself anew and there is no denying there have been some significant developments over the past decade that Middlesbrough has every right to be proud of.
Teesside University was named The Times' 'University of the Year for 2010'.
Middlesbrough's Centre Square is one of the UK's biggest civic open spaces, and is home to the modern art venue Mima, which continues to surprise visitors.
The newly built Boho Zone is beginning to show its potential, turning the formerly ill-reputed St Hilda's into a hive of small, digital and media companies.
On the riverbank, the flagship Middlehaven development was delayed after the property market collapsed.
But building work has resumed and it can still make the ambitious claim that it is on course to become the UK's first major zero carbon residential, leisure and commercial development.
Middlesbrough last applied for city status in 2002, when a new city was created to celebrate Queen Elizabeth II's Golden Jubilee. It lost out to Newport.
Councillors in Newport are quick to boast about their achievements since becoming a city.
Newport has a world-class Velodrome, attracted some big employers and is now a location for government headquarters outside London, though whether or not these would have happened anyway is impossible to say.
Middlesbrough is already part of the Tees Valley City Region, which also includes Hartlepool, Stockton, Darlington and Redcar and Cleveland.
Economically, by far the City Region's two greatest assets are based outside Middlesbrough in Redcar and Cleveland Borough - Sembcorp's Wilton Chemical Complex and the soon-to-reopen Redcar Steelworks.
Other big income generators, such as Teesport and the petrochemical industries based on the North Bank of the Tees, also fall outside Middlesbrough.
Teesside as a whole cannot apply to become a city, as it is served by more than one council. To establish Teesside as a city would first involve amalgamating the area's councils into one, without any guarantee of success afterwards.
So when it comes down to economics, Middlesbrough's position as a residential, social and retail centre for the wider Tees area is key to its survival.
Attracting the 720,000 people living in the Tees Valley into the town to spend their money is a must for Middlesbrough and it's clear that the council believes a 'city centre' is something worth working for.
Related Internet Links
The BBC is not responsible for the content of external sites.