Middlesbrough city status bid complete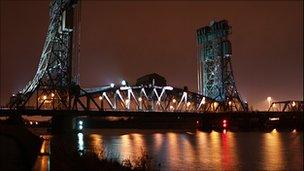 Middlesbrough has submitted its bid to become a city for the third time, after losing out in 2000 and 2002.
This time the town is up against the likes of Gateshead and Reading to be recognised as part of the Queen's Diamond Jubilee celebrations next year.
The emphasis of this bid was to keep costs to a minimum, with the total spent estimated at £4,000.
The other costs were picked up by supportive businesses, local people doing work for free.
Middlesbrough Mayor Ray Mallon said: "There's an awful lot of work that a lot of people have done over the last 10 years or so.
"When you look at what's going on, we've got three big shopping centres in the town, you've got Temenos, you've got the art gallery, you've got the biggest town square of its type in the country, there are two museums, two big Victorian parks and that's just the start."
The winning bid is expected to be announced next spring.
Related Internet Links
The BBC is not responsible for the content of external sites.