Cleveland Police chief Sean Price in recruitment probe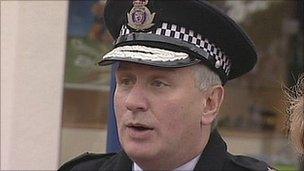 The chief constable of Cleveland Police is being investigated over a claim he used undue influence to get a person appointed to the force.
The Independent Police Complaints Commission (IPCC) is investigating the allegation against Sean Price.
The claim arose during an investigation into some people associated with Cleveland Police Authority.
Mr Price denied the "malicious" allegation and said he would assist the IPCC in every way.
He said: "I completely refute the accusation, which I regard as malicious as I took no part in the recruitment process.
"I further believe the allegation is mischievous in seeking to cause comparison with recent events in other forces.
"I realise the IPCC need to investigate this matter and will assist in every way that I can.
"I want the matter to be cleared up as soon as possible and I am sure that everyone will realise the damage that such an allegation could have on my personal standing and confidence in the force."
Peter Race, chairman of Cleveland Police Authority, said: "Whilst we fully understand the role of the IPCC in investigating complaints, we fully support our chief constable in his clear statement refuting the accusations, which he regards as malicious and mischievous.
"We fully support his wish that this matter should be resolved at the earliest opportunity in both his interests and that of the force as a whole."
A separate criminal investigation is under way into a number of people with current or past associations with Cleveland Police Authority and is being conducted by Warwickshire Police's Chief Constable Keith Bristow.
The IPCC said it was not actively involved in this criminal investigation, but is being kept informed about its progress.
Related Internet Links
The BBC is not responsible for the content of external sites.