Sperm whale carcass removed from Redcar beach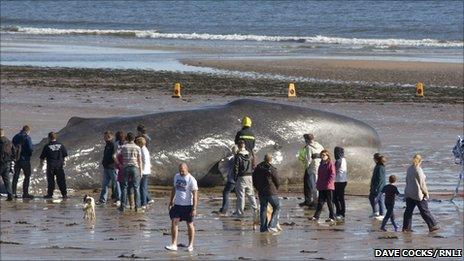 The carcass of a 44ft (13m) whale which died after becoming stranded on a beach on Teesside has been removed.
Attempts to save the 20-tonne sperm whale failed after it washed up on Redcar beach early on Tuesday.
Following an autopsy by experts from the Zoological Society of London, a five-hour operation to cut up the carcass was carried out.
It involved the use of a hydraulic plant more usually used for road construction, mining or quarrying work.
The carcass was taken away from the scene in giant containers by contractors John Warren Animal By-Products.
Redcar and Cleveland Council then cleared the affected area of the beach, with layers of sand being removed.
Floodlights and screens had been brought in to protect the whale overnight, which attracted scores of onlookers on Tuesday.
Police had alerted the RNLI after spotting the stricken mammal, just after 0620 BST on Tuesday.
A rescue effort started which involved trying to keep the adult whale wet until high tide, but it died about three hours later.
A spokesman for Redcar and Cleveland Council, which was responsible for removing the carcass, said: "We must again pay tribute to the efforts of everyone involved in such a complicated operation.
"As well as the sensitivities surrounding the disposal of the carcass, we have had to consider the potential health hazards and risk to shipping, and we thank the many members of the public who have visited the site for bearing with us."
It is not yet known why the whale was in the area, but some experts believe noise from shipping might have confused it.
The results from the autopsy are expected in about two weeks.
Related Internet Links
The BBC is not responsible for the content of external sites.