'Free runners' urged to take care in County Durham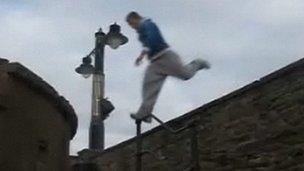 People are being warned of the dangers of "free running" following a number of incidents in a County Durham town.
It follows reports of young people climbing onto and running along the roofs of buildings, including the bus station, in Bishop Auckland.
Police said that while no-one had so far been injured there were concerns for safety.
The activity involves the participants climbing buildings, running along roof tops and jumping gaps.
In Bishop Auckland, runners have been using buildings especially in the Newgate Street and Tenter Street areas, as well as the bus station and other places with scaffolding and access to roofs, such as building sites.
A Durham Police spokesman said: "Although we recognise this is a leisure activity in which many people take part, it does require caution.
"Apart from the obvious risk of falling or injuring yourself there is also a strong possibility that buildings or property may be damaged.
"We would urge parents to speak with their children regarding these concerns and for young people who are involved in the sport to be mindful of the risks involved."
Related Internet Links
The BBC is not responsible for the content of external sites.