BBC Introducing: Toyger from Middlesbrough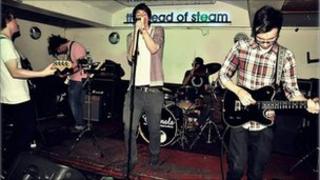 Toyger are a progressive indie band from Middlesbrough who are preparing to release their first single.
Together for just over a year, the five-piece band have already played Evolution Festival and are set to support Tellison at The Crown in Middlesbrough.
With a similar sound to Foals and Dartz!, it is bands such as Tubelord and Colour that influence their sound.
They formed whilst at college, taking part in social jamming sessions.
Made up of Rory Duffy (vocals), James Diggins (guitar), Dean Mizzi (guitar), Nick Short (bass) and Wayne Mizzi (drums), the band write all their own songs.
Vocalist Rory, said: "It has no restrictions. We don't write songs in a conventional way so I guess our music gives us a chance to rebel against typical indie 'verse chorus verse chorus' structures.
"It's a good feeling to receive praise for doing something a bit differently."
Shared passion
Finding their name after a Wikipedia search on breeds of cats, it seems the friends have found something that they are all passionate about.
Guitarist Dean, said: "Music has made us who we are (musically speaking) and we all relate to it in certain ways.
"We're all really good mates and we go out and go to gigs together, clubbing etc, so when we get together in a room and write music it feels amazing cause we connect in so many ways and it reflects in our music."
Toyger recently played their first festival at Evolution in May.
Rory said: "Evolution was incredible! We were lucky enough to receive a call a couple of days before the festival saying that they would like us to open the Baltic Square stage as well as play our later slot on Generator's UMT:Emerging stage, which meant we ended up sharing a stage with artists such as Katy B and Jamie Woon, which was an amazing experience."
Toyger are hoping to go on tour later in the year. For more information, visit their Facebook page.