Locket to Sgt Lee Johnson stolen in Stockton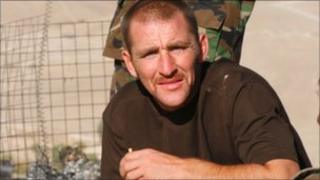 A locket containing a photograph of a soldier who died in Afghanistan has been stolen from a house in Teesside.
Thieves stole £3,000 worth of jewellery from Sandra Johnson's home in Bishopton Court, Stockton, including the locket remembering her son Sgt Lee Johnson.
The theft took place between lunchtime on Thursday, 9 and Sunday, 12 June and police are appealing for information.
"Everyone knew our Lee, if they found the locket and opened it, they'd know it was mine," said Ms Johnson.
Sgt Johnson was killed in December 2007 when the vehicle he was in exploded.
His mother said: "I wore the locket for special occasions, they left one gold locket, just threw it on the floor.
"They also took two of my mam's rings as well, and a ruby ring that I got for my ruby anniversary last year.
"We had a fundraising night for a bench for Lee and got it put up in Stockton with a brass plaque on, but someone stole the plaque off it twice.
"The council replaced it both times, but now this burglary... nothing seems to be going right for us lately."