Salmon found in River Leven after 150-year gap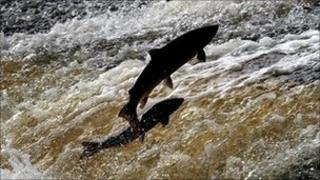 A salmon has been found in Teesside's River Leven after a gap of 150 years, the Environment Agency (EA) said.
Until 2007, it was not possible for salmon to spawn there due to an impassable weir built during the industrial revolution.
In 2007, the EA built a fish pass on the weir between Ingelby Barwick and Thornaby.
The salmon find means that at least one pair of adult salmon had used it to swim up from the River Tees to spawn.
The salmon is thought to be one year old.
Good numbers of brown trout were also recorded in the river.
The Tees Rivers Trust is carrying out silt reduction work on the river, which should provide more salmon spawning grounds in the future.