Binman Paul Thompson saves Middlesbrough toddler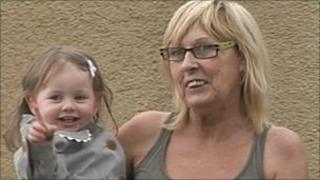 A binman on his rounds in Middlesbrough saved an unconscious toddler's life by giving her first aid in the street.
Paul Thompson, 34, was emptying bins in Melsonby Avenue, when grandmother Anne Tierney ran out into the street with two-year-old Farrah Appleby.
The little girl had had a seizure so Mr Thompson put her in the recovery position and performed first aid.
The toddler has since made a full recovery and Mrs Tierney praised Mr Thompson's quick-thinking.
'Gasped for air'
Mr Thompson said: "The little girl was purple in the face so I put her in the recovery position.
"Her tongue was blocking her airways so I moved it out of the way and she gasped for air - I was relieved because I had forgotten how to do compressions in all the panic."
Mrs Tierney said: "I have never seen anyone have a fit before. I just didn't know what to do.
"I picked Farrah up and ran outside with her in my arms screaming. I just didn't know what to do and he saved her life."
Mr Thompson, had only just learned first aid on a council-run course before the incident happened on 9 June.