Sunday closure for Middlesbrough's Transporter Bridge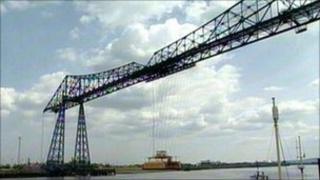 Middlesbrough's Transporter Bridge is to close on Sundays so people can take part in events like bungee jumps and zip slides.
The change in opening hours will also allow maintenance work to be carried out on the Grade II-listed structure.
It follows a public consultation exercise, which also showed support for the introduction of season tickets.
The 225ft (69m) high bridge, Middlesbrough's most famous landmark, celebrates its centenary on 17 October.
The council said work was under way to develop a season ticket which will be available in the near future.
Fares for pedestrians and cyclists will also being reviewed, with new charges announced in due course.