New cancer day unit opens at James Cook hospital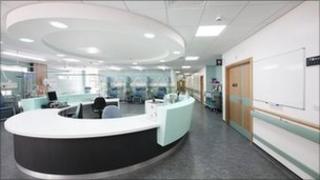 A chemotherapy day unit has been opened at The James Cook University Hospital in Middlesbrough.
The unit has been created as part of multi-million pound plans to develop cancer services.
There is now a consultation room for nurse-led clinics and a garden area.
Adrian Rathmell, consultant clinical oncologist, said: "Staff were being forced to treat patients in an unsatisfactory environment, this new unit is a huge improvement."
The chemotherapy day unit is the lead provider of chemotherapy in the southern part of the North of England Cancer Network.
Joe Parker, 68, of Yarm is being treated at the hospital and said: "I have been coming that long that I know everyone now, even the reception staff.
"I have seen an increase in the number of cancer patients being treated here over the years so this new unit is much better for everyone."