Middlesbrough care home residents dance to better health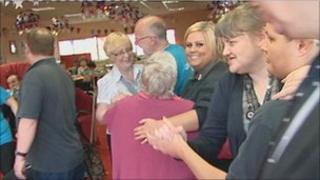 Residents at a Middlesbrough care home have been learning dancing tips from a Strictly Come Dancing star.
Ballroom dancer Erin Boag helped people at Elmridge Nursing Home dance their way to better health as part of Bupa's Shall We Dance initiative.
The scheme aims to get older people to improve their physical and emotional health through dance.
According to Bupa, only 20% of men and 17% of women aged 65-74 get the recommended level of physical exercise.
Dancing has become popular with the public thanks to BBC One's Strictly Come Dancing, with more than 10 million viewers tuning in to watch an episode in 2010.
'Happy smiling faces'
Ms Boag will visit nine care homes in the UK.
She said: "It's getting everyone active, up and moving or dancing from their chair with music just for health reasons, it's good for the body and it's good for the mind.
"Dancing is just fun and it's nice to just give it a go."
Bupa said regular physical activity by older people reduced the occurrence of a number of chronic conditions including diabetes, cancer, cardiovascular disease, hypertension, obesity, depression and osteoporosis.
Taking part in ballroom dancing has also been shown to reduce the chances of getting dementia by 76%, it said.
Kevin Mochrie, from Bupa, said: "We're hoping to do far more dance activities, we've seen just how much fun it is.
"There's huge health benefits, but most of all it's great fun and as a result of that they have a great time and that's the best thing of all, seeing the happy smiling faces."