Thieves target Hartlepool lifeboat station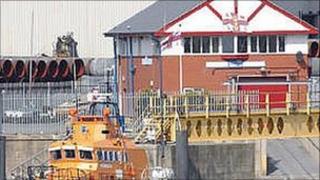 Police have condemned thieves who targeted a lifeboat station on Teesside and made off with vital equipment used in rescue operations.
The theft at the RNLI station in Hartlepool is thought to have happened sometime on Friday or Saturday.
Raiders forced access to one of two lifeboats, steeling night vision equipment and various metal-made items used in securing stricken vessels.
Cleveland Police said the attack on an operation rescue vessel was "shocking."
A force spokeswoman said: "To target an operational vessel operated by a charity whose purpose is to save lives beggars belief.
'Disgusted'
"This theft will shock all right-thinking residents who know all too well the value of our local lifeboat service."
Mike Craddy, operations manager at the station, said volunteers had been left "disgusted" by the thefts.
He said: "We have two lifeboats and the all-weather vessel was the one affected.
"The boat is still operation, but has suffered damage to the accommodation section.
"The night vision equipment alone will cost us £2,000 to replace and at a time when charities are struggling, it's not good."
Police are studying footage from CCTV cameras which were in operation at the station.