Hartlepool man leads building of 2012 Olympic stadium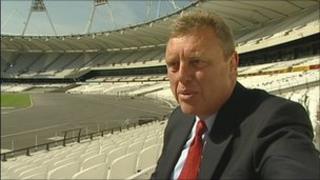 A man from Hartlepool has led the construction of the London 2012 Olympic stadium.
Former West Hartlepool rugby player Tony Aikenhead was the man in charge of making sure the Olympic stadium was built on time and within budget.
His group, aptly named Team Stadium, had the challenge of completing the 80,000-capacity stadium under budget and ahead of schedule.
And they exceeded expectations, finishing the stadium on time, two months early and under budget.
Mr Aikenhead moved from Hartlepool in 1983 to pursue a new life life in the construction industry down south. However, he has never forgotten his roots.
He said: "I'm very proud of it indeed, although I was born in Hartlepool I didn't really know it as a child because my father was a policeman and he moved around a fair bit in the North East.
"We moved from Hartlepool when I was about nine months and we went up to Whickham and then Chester-le-street.
"People know your accent and I haven't gone out of my way to lose it and I haven't gone out of my way to enhance it, but it's still there and I'm still proud of it."
After moving his way up the ladder, he helped build the Millennium Dome and Cardiff's Millennium Stadium, where Middlesbrough FC won the Carling Cup in 2004, defeating Bolton Wanderers 2-1.
Then, in 2008, he received a phone call from a friend asking him to be the Olympic stadium project manager.
After accepting the job his team and subcontractors got to work - delivering the finished stadium on time, two months early and under budget.
He said: "This project has been an absolute blast. It's been great, fantastic people to work with, great team. I never had a sleepless night, the team was too good for that.
"It's immense [the stadium], it looks very functional, it looks simple compared to other stadia, but the amount of engineering that went into this project was phenomenal.
"If the athletes are happy as they're the users and if the press are happy, then we would have got across the line."