New command team at Cleveland Police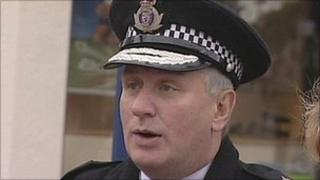 A new command structure has been put in place at Cleveland Police following the arrest and suspension of the force's chief and deputy chief constable.
Chief Constable Sean Price and his deputy Derek Bonnard were arrested and bailed last week on suspicion of corruption and fraud.
Three senior officers have now been put in charge of day-to-day operations.
Cleveland Police Authority said it hoped the investigation would be completed "as quickly as possible."
Former force solicitor Caroline Llewellyn was also bailed after she was arrested as part of the same investigation.
Temporary Deputy Chief Constable Dave Pickard, Assistant Chief Constable Sean White and Assistant Chief Officer Ann Hall are now overseeing force operations.
In addition, Ch Supt Adrian Roberts has been temporarily promoted to Assistant Chief Constable.
'Business as usual'
Mr Pickard said: "This is a difficult period for everyone involved with the force, but I know there is total commitment at every level to continuing with our day-to-day duties of serving and protecting our communities.
"I want everyone to be absolutely clear about the interim leadership structure for the force that is in place, as well as recognise the support from the police authority during this time.
"Our focus has to be on business as usual and we will not let matters which in reality are largely outside the control of the force and the authority divert us from that task."
Police authority chairman Peter Race added: "I and my colleagues have been enormously impressed that, in the midst of the very difficult developments, the leadership team have never wavered in keeping their eyes on our top priority of protecting the people of Cleveland.
"Quite rightly there is a concern that the investigations taking place should be concluded as quickly as possible in the interests of everyone concerned and that is what we are determined to press for."