Inquiry into Cleveland Police 'costs £100,000-a-month'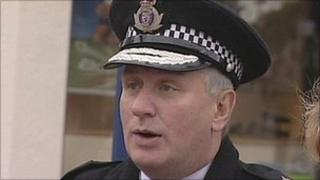 An investigation into Cleveland Police is costing £100,000-a-month, Middlesbrough council has revealed.
The Warwickshire Police-led enquiry has seen the arrest and suspension of Cleveland Chief Constable Sean Price and his deputy Derek Bonnard.
Barry Coppinger, the police authority's council representative, said they will not be cutting the investigation short because of costs.
Mayor Ray Mallon said Mr Price and Mr Bonnard are unlikely to return to work.
Mr Mallon said: "It may be the case that Sean Price and Derek Bonnard wouldn't want to come back because this has been a very traumatic time for them.
"I think I can say without fear of contradiction, the officers will not return to work."
'Properly investigated'
Mr Price and Mr Bonnard were two of three people arrested on suspicion of misconduct in a public office, fraud by abuse of position and corrupt practice. They were both bailed, and suspended from the police.
Temporary Deputy Chief Constable Dave Pickard, Assistant Chief Constable Sean White and Assistant Chief Officer Ann Hall are now overseeing force operations.
Mr Coppinger, also a Middlesbrough councillor, requested the costs of the investigation, which include staff and travel costs, to feedback at a council meeting.
He said: "I must be clear, it is costing £100,000 per month, but it must be fully and properly investigated, we do not want to cut it short because of costs, but we don't the council tax paying public funding this for too long.
"We have applied for Home Office funding, and hope that will help in the longer term."