Father praised for turning in 'sandwich robber' to police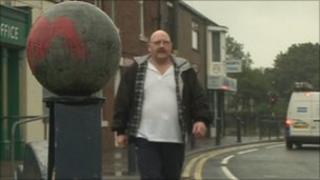 A 14-year-old who tried to steal a cheese and onion sandwich with a toy gun has been turned in by his father.
Nightshift laundry worker Garry Bell was walking to work on the A688 in Bishop Auckland, in Durham, on 7 August when he was approached by the youth.
The boy held what he thought was a real gun to his head and demanded his bag, but Mr Bell refused and he ran off.
The youth's father later took him to the police and he was given a final warning. Mr Bell praised the father.
The parent had found his son's toy gun and taken him to Durham Police.
A force spokesman confirmed officers had consulted Mr Bell who was happy the boy be given a warning.
Mr Bell said: "I wasn't afraid at the time because I thought it was a prank and there was a girl there and I thought he was showing off.
"I am happy with the lad getting a warning - his father showed good parenting by handing him in."