Teesside union chairman Geoff Waterfield, 43, dies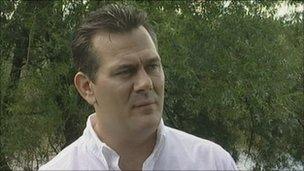 The chairman of the multi-unions at Teesside Cast Products (TCP) has died.
Geoff Waterfield, 43, worked at the Corus, Tata and the SSI UK site for about five years and died on Wednesday 31 August.
He is acknowledged as making an enormous contribution to keeping the steel industry alive in Redcar.
Jon Bolton, the director of TATA Steel Long Plant, said: "He was really central to the fight for keeping steel making alive on Teesside."
Mr Bolton worked with Mr Waterfield throughout the mothballing of TCP and the handover of the site to SSI UK.
He continued: "He was absolutely dedicated, committed... I'd go as far as saying he really led [the campaign] and the rest of us supported him... he was an inspirational guy."
Mr Waterfield organised the "Save Our Steel" march in Redcar, which caught the eye of Mr Win Viriyaprapaikit the president of Thai company, SSI Steel, who went on to buy the plant last August.
SSI UK took over TCP in March and the blast furnace is due to be re-lit on Thursday, 8 December.
Ian Swales, the MP for Redcar, also paid tribute.
"It's a tragedy that he has not lived to see steel making start again. He will be missed by the whole of Redcar," he said.
'Truly great Teesside man'
Nick Brown, MP for Newcastle East, said: "Geoff's energy, knowledge and enthusiasm were at the service of others. He put all his heart into the campaign for his friends, his neighbours, and his work mates.
"He was an effective trade union leader. We will miss him very much."
Tom Blenkinsop, Middlesbrough South and East Cleveland MP, said: "Geoff will always be remembered as a truly great Teesside man.
"The death of Geoff Waterfield is a truly tragic loss for his family, friends, trade union comrades, the trade union movement and the Teesside community."
It is not yet known how Mr Waterfield died.